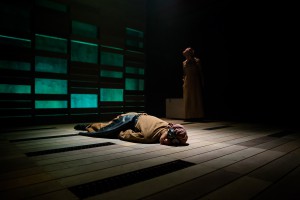 Fine Line was founded by actor / producer Lindsay Fraser in 2011.
Fine Line is an award-winning theatre company, with a focus on new writing. It produces theatre that challenges and excites its audience, with the majority of work having a strong political and social message at its heart.
Through outreach and creative learning programs, Fine Line is determined to connect with new and hard to reach audiences. We believe in the importance of engaging with young people and work that is accessible to all.
Fine Line's work includes: DISTANCE at Park Theatre, MOORMAID at Arcola Theatre, OUT OF THE CAGE at Park Theatre, EVEN STILLNESS BREATHES SOFLY AGAINST A BRICK WALL at Soho Theatre, EXECUTION OF JUSTICE at Southwark Playhouse and WHEN DID YOU LAST SEE MY MOTHER at Trafalgar Studios.
Fine Line is currently supported by Stage One and ETT Forge.
LINDSAY FRASER
Lindsay trained on the 3 year BA Acting course at East 15. Alongside acting and filmmaking, Lindsay has produced theatre across the UK, on the Edinburgh Fringe, London Fringe, London West End and Internationally.
Lindsay also ran the multi-award-winning theatre company Bear Trap where she produced; BOUND (Edinburgh Fringe, Adelaide Fringe, Southwark Playhouse, UK National Tour) which won a host of awards including a Fringe First; and ENDURING SONG (Southwark Playhouse).
Lindsay has been the recipient of the Society of London Theatre's Stage One New Producers Bursary in 2014,  2015 and 2017.