MOORMAID
Writer | Marion Bott
Director | Zois Pigadas
18th April - 19th May
A co-production with The Alchemist Theatre Company and Arcola Theatre.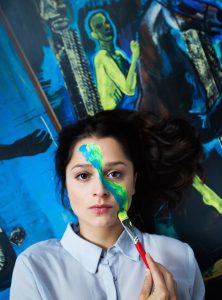 'Moormaid will be a play not soon to be forgotten' Theatre Weekly
"To choose is to commit, and to commit is to be free."
Berlin. Eleven past eleven. Art teacher Melissa is about to do something drastic.
Seeking a place to hide, her ex-pupil Mehdi interrupts her momentum. Both embark on a turbulent journey, painting and battling their way through the past.
This explosive new play about self-destruction and rebirth attempts to understand the fear currently gripping the European psyche, and the threats that may be posed by our own alienated youth.
★★★★ Theatre Weekly | ★★★★ The Reviews Hub | ★★★★ Pocket Size Blog |
★★★★ IThankYouTheatre | ★★★★ London Theatre Reviews |
★★★★ Breaking The Fourth Wall
'Guaranteed to make you feel… a wondrous cast' IThankYouTheatre
This slideshow requires JavaScript.
CAST | Sarah Alles | Ali Azar | Moe Bar-El 
WRITER | Marion Bott
DIRECTOR | Zois Pigadas
DESIGNER | Sophia Simensky
LIGHTING and SOUND DESIGNER | Tim Boyd
GENERAL MANAGER | Kosky Productions
STAGE MANAGER | Venus Raven
REHEARSAL PHOTOGRAPHER | Meurig Marshall
TRAILER CINEMATOGRAPHER  | Anika Wagner 
Artwork for the production is kindly provided by Demien Deroubaix courtesy of Gallery Nosbaum & Reding Luxembourg.
MOORMAID was kindly supported by Arts Council England, Unity Theatre Trust and Arcola Theatre.